Depiction of War
From Petroglyphs to Modern Media
An Ancient Portrait in Stone of Kamalālāwalu
There are many petroglyphs on the island of Hawaiʻi. Some portray people. You and I cannot recognize the individuals that were depicted in these stick figures, but the artists that pecked these images into the lava may have had specific people in mind. There is one petroglyph that is said to be a likeness of one particular person, Kamalālāwalu, the Maui ʻai moku that lost his life during his ill-fated invasion of the island of Hawaiʻi.
It is amazing in itself that this petroglyph is directly associated with a famous chief of old Hawaiʻi, but it is unusual in several more ways. It is in lava in the tidal zone. It is an intaglio (more details on what that is below). It is near and associated with a luakini heiau. Every one of these factors is rare for petroglyphs. Together they make this image unique and exceptional.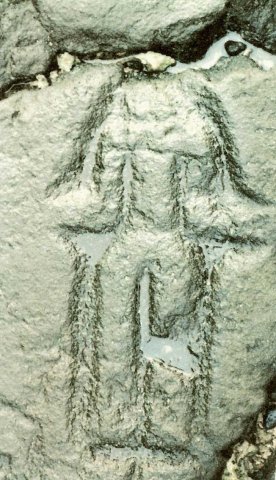 This petroglyph is situated within a group of several dozen stick figures of people on bare lava just beyond a sandy beach in the ahupuaʻa of Kahaluʻu south of Kahaluʻu Bay. This bay is now a county park famous for great snorkeling, plentiful turtles, and a fishpond wall said to have been built by the Menehune. A now abandoned hotel lines the southern shore of the bay, and just south of that are several large heiau at the water's edge. One of those is the imposing Keʻekū, with thick and tall walls of stone that could have served as a fortress for this royal center.
The story of how we come to know that this image represents a known high ranking aliʻi is worth telling, and is provided in part by Tom Dye, editor of the notes from John Stokes that became the book Heiau of the Island of Hawaiʻi: A Historic Survey of Native Hawaiian Temple Sites. John F. G. Stokes came to Hawaiʻi from Australia to manage the Bishop Museum library and collections on Oʻahu. While only 24 years old at the time, he became part of an energetic cohort of scholars that were intent upon gathering as much information on the old Hawaiian ways as they could. By 1903 Stokes was the Curator of Polynesian Ethnology at the museum. In August of 1906 he set off for the island of Hawaiʻi to document as much as he could about heiau there. While in Kona Stokes met a local man named Malanui who at that time was 86 years old. That means Malanui was born in 1820, one year after King Kamehameha died. Stokes was indeed lucky to work with Malanui who was raised by parents that knew the old ways, and knew the old stories of the place. And we are lucky, too, to be able to practically hear the words spoken by this Hawaiian elder as he may have heard them from his parents, and those before him.
Malanui turned Stoke's attention to some petroglyphs that are only a few paces away from the heiau Keʻekū. He pointed out an unusual petroglyph and told Stokes this information, which was duly documented in "Notes on Hawaiian Petroglyphs-I" in the Occasional Papers of the Bernice Pauahi Bishop Museum IV in 1910:
"When Kamalalawalu, king of Maui, invaded Hawaii, Lonoikamakahiki the king of Hawaii was in Kahaluʻu. On hearing of the landing near Kawaihae bay, Lono held a council of war at which two old priests presented the following plan: Lono was to disgrace them and drive them from court; they were to seek refuge from the enemy and confidence being gained advice was to be given that a march be made inland toward Waimea where they were to claim that Lono was in such a weak position that his defeat was certain. The plot succeeded, and while Kamalalawalu marched inland, Lono brought his forces along the coast from Kahaluu and cut off his retreat. Kamalalawalu was killed in the engagement that ensued. His body was brought to Kahaluu, a picture of it made on the rock, and the body sacrificed in the nearby heiau of Keeku."
Stokes and Malanui were looking down on a picture of the fallen ʻai moku Kamalālāmalu who had paid the price for invading the island. His lifeless body had been brought to Keʻekū to be ritually sacrificed within the walls of this luakini heiau. His bones had provided the greatest mana that any luakini heiau could hope to receive, the body of a slain aliʻi of the highest order.
In the summer 2008 I was fortunate to find myself working at the Keʻekū hieau while it was being restored by Kamehameha Investment Corporation (KIC). KIC had hired TSDye and Associates, Inc. to monitor that reconstruction work while stone and sand were being shifted around. I worked for TSDye at Keʻekū with a great cast of characters: master stone mason Billy Fields and his talented crew; friend and colleague Keone Kalawe working his magic with his keen eye and map-making skills; and Eddie Ayau as cultural advisor. Keone and I worked with Kealakehe high school students at Keʻekū once a week, he on mapping one of the other nearby heiau, and I mapping the petroglyphs at low tide. In this way I had the unusual opportunity to spend plenty of quality time with the Kamalālāwalu petroglyph.
Stokes had declared that it was a headless body. I disagree strongly. The intaglio grooves that outline the body appear wider in the head region than elsewhere on the image. It looks to me that this is merely an upward extension of the outer pecked away lines that end up surrounding the shoulders and head region together. In contrast, I think Stokes saw those intaglio lines as outlining the shoulder only. But I think that he was focusing on the outer limits of the pecked grooves, and not the inner lines of those intaglio grooves. When one concentrates on the inner edges of the grooves one can clearly see the outline of a round head and two shoulders. It helps to be able to inspect the image at different times of the day when the sun is high, overhead, and low on the horizon, and at different tidal levels when the water partially fills the intaglio grooves.
Intaglio is a term that describes a carving technique that involves removing materials (stone in particular) and leaving the image in the forefront of the original material. Egyptian, Greek and Roman artists employed this technique on walls of temples. More recently pumpkin carvers have introduced this advanced carving technique to make complicated faces, leaving the outer pumpkin skin for the eyes and other facial parts. In contrast, the pecked portions of Hawaiian petroglyphs are usually the body parts to be shown; the arms, legs, torso, and head are pecked away from the lava. But the body of in the Kamalālāwalu image was never touched by the artist. Instead, the perimeter of the arms, legs, torso, and ahead were pecked away to create the image of the body in the untouched lava.
Why bother to do this? And why only for this image?
I have a theory. And I do not claim that this idea is the ultimate answer. It is just a guess. The body of a high chief like Kamalālāwalu was kapu. Perhaps the mana and kapu associated with this highest ranking ʻai moku was so powerful, so sacred, so respected that even the artist that depicted him could not touch the body, and not even touch the image in stone of that body. Instead, he or she had to peck the stone around the body to create the image.
And why is it situated in the tidal zone to be covered by water much of the time? Another guess from me. While being a respected aliʻi, a status that transcends the boundaries of the islands, Kamalālāwalu was still clearly an enemy. He ruled Maui, not the island of Hawaiʻi. Perhaps it was not quite proper to have his image on Hawaiian island territory. Instead it was placed just offshore, out to sea.
Many archaeologists have spent time at Keʻekū, but none have presented as thorough or as thought provoking of a discussion as have David Tuggle and Myra Tomonari-Tuggle in their article in the Rapa Nui Journal entitled The Petroglyphs of Kahaluʻu Kona, Hawaiʻi. This is definitely the next stop for anyone interested in more about what is onshore and offshore at Keʻekū.